Nissan has been focusing greatly on electric cars with the success of the Leaf.
It is now recognized as the planet's best-selling electric car.
The 2014 ZEOD Nissan RC lays the groundwork for technology that will help in the development of the next era of Nissan Leaf cars.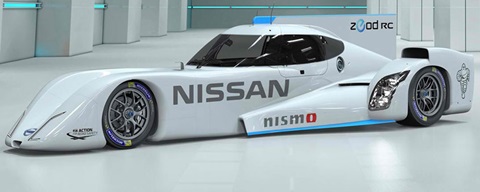 Nissan launched the innovative, ground breaking ZEOD RC - the fastest electric racing car that will occupy 'Garage 56' at the LeMans 24 Hours in June of next year. It will use identical electric battery, inverter and motor technology as that found in the Leaf. Its total weight is expected to be at just 1543 pounds (700 kg).
Wings
The car uses brand-new electric 'drivetrain' technology and was designed with LEAF RC's energy management and effective energy recovery system. In fact, this technology was developed by the LEAF Nismo RC team.
However where the Nissan Leaf Nismo-RC only delivered 107 horsepower and a top-speed of 93 mph (150 km/h), the new Nissan ZEOD RC is estimated to be perfect for speeds exceeding beyond 186 mph (300 km/h).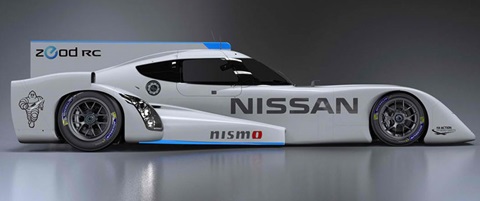 The ZEOD RC will also be the very first race car to finish a lap of 13.6 kms Le Mans 24 Hours circuit on just electric power. This will not just make the ZEOD RC the swiftest electric powered racer in the world, but in addition, it will showcase itself against 'petrol-powered' racers because of its light-weight architecture and state-of-the-art aerodynamics.
Hybrid Set-up
It is not just all electric, the team from Nissan has come up with a hybrid electric vehicle in the ZEOD. The lithium ion battery recharges through the technology of regenerative braking (capturing energy electrically and reusing the same during acceleration).
It will employ a plug-in hybrid system, since it is built with a powerful internal combustion engine, a 1.6 liter turbo-charged 4 cylinder, therefore the driver can shift between electric power and the engine. Nissan reports the ZEOD RC will test out several electric drive train options before its race in 2014.