The 2009 ART AS55K Yaas Edition Mercedes-Benz G55 AMG is the automotive equivalent of a centuries-old painting – it was commissioned solely to be the special vehicle for Abu Dhabi's royal family. The royal model was based on the G55 AMG but was optimized so that the vehicle's horsepower reaches 620 hp with 880 rpm.
The Obsidian black royal ride has aerodynamic components for the rear, side, front, and roof (including the Aero hood). The aforementioned aerodynamic components and the hood, along with the spare wheel cover, the door handles, the engine block, and the exterior mirror shells, all have high-quality carbonized surfaces that result in a magical three-dimensional effect. Apart from the carbonized surfaces, the royal version of the G55 AMG also has quite a few highly-polished stainless steel decorative elements and a dual-polished stainless steel bumper that add to the vehicle's overall sparkle.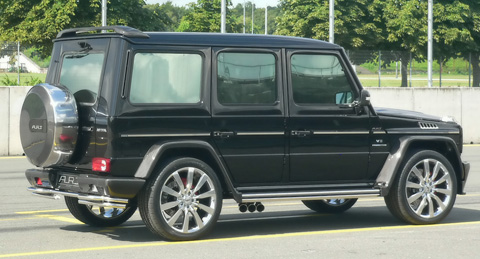 The sparkle doesn't end there though. The interior is kitted out in perforated smooth nappa leather, excellent velour leather, and alcantara in shades of cinnamon and anthracite. Just like the exterior, the interior also has carbon features. The doors and the covers on the instrument panel have all been furnished with a high-quality carbon veneer. Topping off the lavish interior is the gold-colored carbonized-treated multi-function steering wheel.