The 2009 Piecha Design Mercedes-Benz SL Avalange RS is a high performance two door roadster.
The body of the Piecha Design is made of carbon fiber and it features double headlights, fog lights with day time running lights that add stunning looks to the car. The Piecha Design also features a retractable open top which is operated by the touch of a button and it can be opened or closed within a few seconds.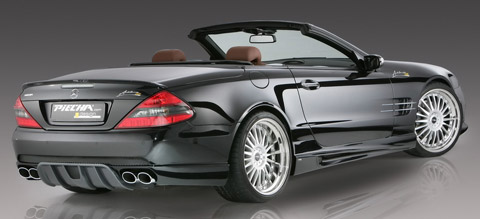 The Piecha Design features a powerful engine with four stainless steel pipes and ABC sport running gears, which delivers high performance, acceleration, powerful sound and reaches a top speed of about 300 kmph. The Piecha Design features 20-inch ten spoke light weight alloy wheels, the front wheels measure 9.5x20 and the rear wheels measure 10.5x20. The wheels feature high performance braking system and the gear shifts can be performed easily and quickly even at higher speeds.

The optional features in the car are
• Chrome bonnet fins that costs about 98 euros
• Parktronic system that costs about 1390 euros
• Quadro 4-pipe tail ends that costs about 398 euros
• Power converter that costs about 429 euros
• Varioroof module that costs about 299 euros
• DVD connection module that costs about 189 euros