Kia is putting the final touches on the 2015 Kia Soul EV, an all-electric model of its popular hatchback. This is the company's first attempt into the electric car U.S market. It was introduced at the recent Chicago Auto Show.
At Kia Motors, the vice president of product planning said that this car retains the fun, funky style, efficiency and utility that has made this car a huge hit with consumers. This car adds usable real-world range and multiple charging options, making it the perfect EV for everyone.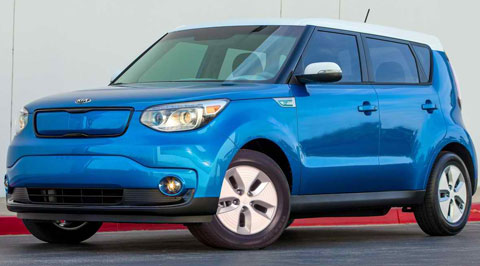 Specifications
General Info

| | |
| --- | --- |
| Vehicle Type: Electric Hatch | Base Price: NA |
Dimensions*

| | |
| --- | --- |
| Length: 161.6 in. (410.5 cm) | Wheel Base: 100.4 in. (255.0 cm) |
| Height: 63.4 in. (161.0 cm) | Width: 70.3 in. (178.5 cm) |
| Curb Weight: 3247 lbs (1473 kg) | Maximum Seating: 4 people |
Performance

| | |
| --- | --- |
| Motor: 109 Horsepower | Torque: 210 lb-ft |
| Battery: 27 kWh | Power: 81kW |
| Torque: 210 lb-ft | Transmission: Automatic |
* Base Soul specs
Performance
The Soul EV is not a fast car; it weighs 3,247 lbs and produces 109 hp and 209 lb-ft of torque. However, the multi-layer magnet design makes the electric motor quieter compared to other electric cars.
Reports have it that they expect the Soul EV, on a full charge, to reach 120 miles before having to recharge, we'll see.
The company has also installed a VESS (Virtual Engine Sound System) that work at speeds below 12 mph; this makes sure pedestrians and cyclists are aware of the car's presence.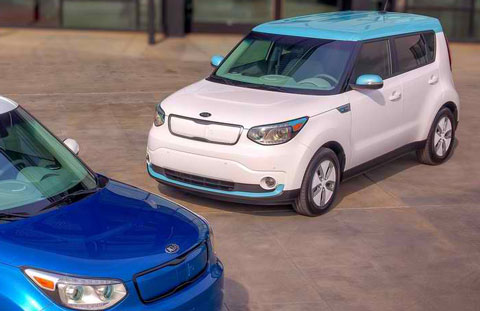 Battery
A Lithium-ion polymer battery is housed under the car's floor and is recharged by sliding open the panels on the front of the vehicle, where the grille insert is normally located.
The Soul EV is compatible with 120-volt household-style outlets, 480- volt Chademo DC fast-chargers offered by municipalities, and 240-volt EV chargers. Depending on the source of charging, it can take between 45 minutes and 24 hours to totally recharge Soul EV.
Exterior
The exterior design is no different from a standard gasoline-powered Soul. It comes equipped with aerodynamic 16-inch aluminum wheels that have super Ultra Low Rolling Resistance tires. This simply means the Soul retains a funky style'.
Interior
The interior is similar to the standard Soul, but it's not as roomy. This car doesn't have the same rear legroom and cargo room; this is to create space for battery and other components.
It employs bio-friendly material in its construction, making this car the first to earn an automotive environmental validation from the Underwriters Lab. The Soul EV is made of organic ingredients; this includes the interior plastic, the paint on the trim pieces and carpeting, door panels and the headliner.