The Jaguar XK150 is a sports car manufactured by Jaguar Cars between the years 1954-1957.
The XK140 is being replaced by the new Jaguar XK150. During its manufacture, the XK150 was available in the models Drop Head Coupe and Fixed Head Coupe. The Roadster model was later released in the year 1958.
Latest features have been employed in the XK150 compared to the XK140. The single piece windscreen was used for the first time and the bonnet has been widened. The Roadster's bulkhead has been moved a bit back which makes it about 4 inches longer.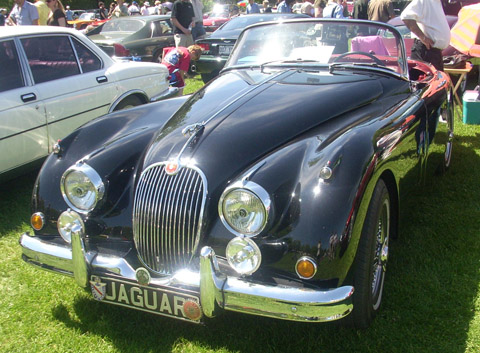 The same 3.4 liter engine that was used in XK140 has also been used in XK150, where some changes had been made. The XK150 delivers a power of about 210 bhp at 5500 rpm.
In the year 1960, a new version has been launched where the capacity of 3.4 engines has been increased to 3.8, that delivers an output power of 265 bhp, reaches the speed of 60 mph in just 7.0 seconds and attains a top speed of 135 mph. The chassis and suspension were the same, which have been used in the XK140 model and for the first time, the four wheels Dunlop disc brakes have been introduced in the XK150.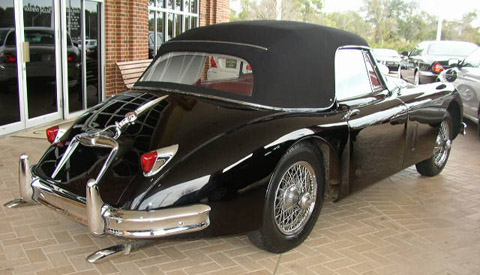 Photo by:
Hcheney
,
Creative Commons
Specifications for the XK150 3.4
Years Produced: - 1957-1959
Type: - sports car with 2 doors
Body Type: - steel body
Length: - 177 in
Width: - 32.0 in
Engine: - dual overhead-cam 3.4 L straight-6 XK engine
Displacement: - 3442cc
Horsepower: - 210 bhp @ 5500 rpm
Brakes: - disc
0-60 mph: - ------
Top speed: - ------
Specifications for the XK150 3.8
Years Produced: - 1959-1960
Type: - 2 doors sports car
Body Type: -steel body
Length: - 177 in
Width: - 32.0 in
Engine: - dual overhead-cam 3.4 L straight-6 XK engine
Displacement: - 3442cc
Horsepower: - 260 bhp @ 5500 rpm
Brakes: - disc brakes
0-60 mph: - 7sec
Top speed: - 135mph