The Jaguar XK120 is a sports car being manufactured by Jaguar Cars between the years 1948 to 1954.
The XK120 is a Roadster that has been launched in the year 1948 at the London Motor Show; also, the new XK engine has been introduced. The car reaches a top speed of 120 mph, due to the 120 mph speed it was named XK120. The XK120 is also the fastest car at the time of its production. The XK120 was first launched as a Roadster, then as a Drop Head Coupe in the year 1953 and later as a Fixed Head Coupe in the year 1951.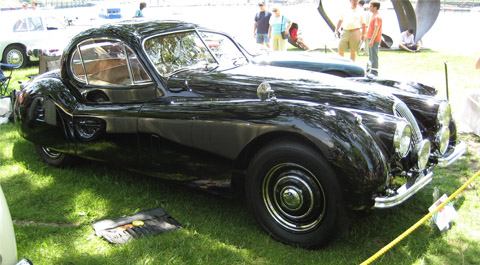 The body of the Roadster is hand built which contained aluminum bodies on the ash borders. Later in the 1950s, steel was used in the place of aluminum, but there were no changes in the aluminum doors, boot lid and bonnet. The 3.4 liter straight-6 XK has been used in this car which delivers an output power of about 160 bhp with 8:1 compression ratio. In addition, the 7:1 compression ratio was also available for more mileage. The dash board is made of leather, torsion bar front suspension has been used in all the XK120 models, the steering can be adjustable, drum brakes have been used at the front and back wheels. Also, detachable side screens are used at the back of the seats.
The Drop Head Coupe contains a canvas top which can be folded; the windscreen used in this model is fixed. The dash boards are made of wood, rear wheel arches are covered with removable spats which gives a stunning look, and the center lock wire wheels have been provided in the car.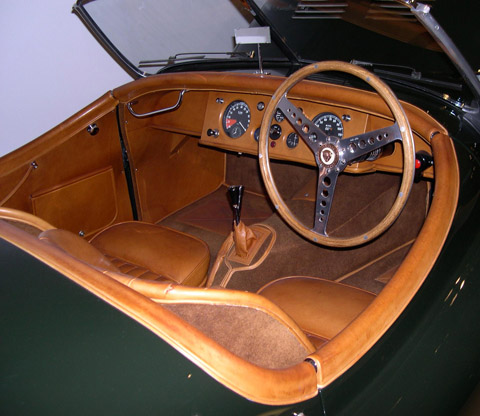 Specifications for the XK120 3.4
Years Produced: - 1948-1954
Body Type: - steel body
Length: - 177 in
Width: - 32.0 in
Engine: - dual overhead-cam 3.4 L straight-6 XK engine
Displacement: - 3442cc
Horsepower: - 160 bhp @ 5000 rpm
Brakes: - drum
Specifications for the XK120 3.4 SE
Years Produced: - 1951-1954
Body Type: - steel body
Length: - 177Â  in
Width: - 32.0 in
Engine: - dual overhead-cam 3.4 L straight-6 XK engine
Displacement: - 3442cc
Horsepower: -Â  210 bhp @ 5700 rpm
Brakes: - drum brakes