The 2009 Ford Fiesta Pikes Peak Rallycross got its first taste of the rally scene when two-time World Rally Champion Marcus Grönholm drove the race car in the Pikes Peak International Hill Climb. Grönholm clocked in the fifth fastest time overall and placed second in the Unlimited Class. Grönholm could have done better had he not had a mechanical issue with the turbocharger on his 800-horsepower Fiesta rallycross racecar. The mechanical issue resulted in a power reduction during Grönholm's crucial final ascent.
Like Marcus Grönholm, Andreas Eriksson experienced a disappointing turn in Pikes Peak when two of his Fiesta's tires slipped off their rims and caused the car to go off course and clip a tree. However, Eriksson stated that the car has fantastic handling, and based on all the mishaps that the car has experienced, the Fiesta can be prepped in time for the X Games in LA and hopefully go home with a victory.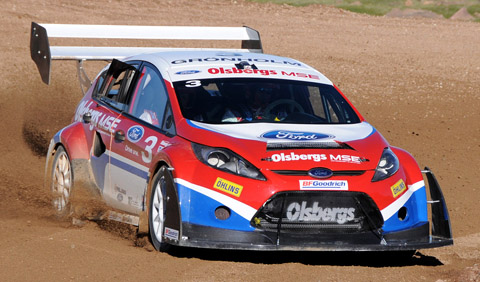 While far from being perfect, the 2009 Ford Fiesta Pikes Peak Rallycross shows a lot of potential. The 3-door hatchback, production-based racecar features a turbocharged inline-4 front engine that displaces 2,000 cc. with 800 bhp.
Marcus Gronholm storms up the Pikes Peak