The 2007 Dodge Charger SRT-8 Super Bee is a high performance four door sedan which is well noted for its styling features, exterior and interior designs, world class braking and handling.
The Dodge Charger SRT-8 Super Bee features a 6.1 L HEMI V8 engine with a capacity of 6059 cc. The engine delivers an output power of 425 bhp at 6200 rpm and 420 lb-ft torque at 4800 rpm. It reaches the speed of 60 mph in 5.0 seconds and it features five speed automatic transmission and the gear shifts can be performed easily at higher speeds and stress.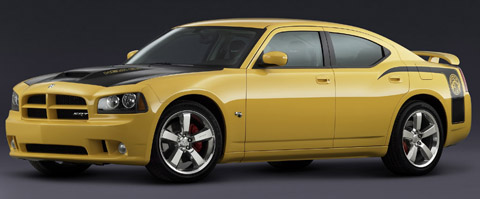 The exterior color of the car is yellow and it features deck-lid face, mirrors, headlights and taillamps. The interiors feature the hand stitched seats, shift knob and steering wheel.

Specifications
Vehicle Type: - 4-door sedan
Configuration: - Front Engine
Engine: - 6.1 L HEMI V8
Capacity: - 6059 cc
Power: - 425 bhp at 6200 rpm
Torque: - 420 lb-ft at 4800 rpm
Transmission: - 5-Speed Automatic
Wheelbase: - 120.0 inches
Width: - 74.5 inches
Length: - 200.1 inches
Weight: - 4160 lbs
0-60 mph: - 5.0 sec
Dodge Charger SRT-8 Super Bee on the Road