The Bentley Turbo R is a high performance car manufactured by Bentley Motors Limited in between the years 1985-1997.
The Bentley Turbo R is the predecessor of Mulsanne Turbo and the Bentley Turbo R features the Mulsanne's bodywork.
The Bentley Turbo R featured a 6.75L Rolls-Royce V8 engine with Bosch MK-Motronic injection and three speed automatic transmission. The engine delivered an output power of 296 hp and 486.8 lb-ft torque. It was priced at $145,000.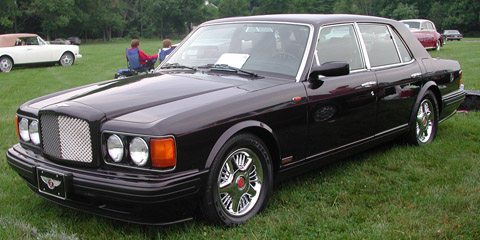 The car also featured tuned dampers at the front and rear and a Panhard rod.
The only version in the Bentley Turbo R is the "New Turbo R" launched in the year 1995. The only changes compared to the Bentley Turbo R are it featured a four speed automatic transmission and Zytec fuel injection.
Specifications
Vehicle Type: - 4-door Coupe
Configuration: - Front Engine
Engine: - 6.75L Rolls-Royce V8
Torque: - 486.8 lb-ft
Horsepower: - 296 hp
Transmission: - 3-Speed Automatic and 4-Speed Automatic
Width: - 83.1 inches
Height: - 58.5 inches
Weight: - 5269 lb
Bentley Turbo R Racing at Le Mans